CSI Digital Repeaters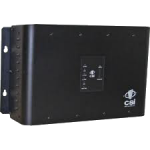 Cellular Specialties, Inc. (CSI) began operations in the Amoskeag Small Business Incubator in Manchester, N.H., in 1997. The company's goal was to manufacture and install equipment that would empower wireless service providers to extend their coverage to areas that were previously impenetrable.
Shortly after its inception, the company formed a solutions division with the goal of providing turnkey design and installation services for a range of facilities, including hospitals, arenas, universities and office buildings. In 2013, this division was sold and officially became CSI Solutions Group, A Division of Goodman Networks.
An in-line tower top amplifier that increased the receive range of cell sites and a bi-directional amplifier that extends wireless coverage into facilities lacking inside coverage were CSI's first products. Source
Download the DSP85/DSP95 Digital Repeaters brochure for your convenience